Roma Imperiale International Prize 2015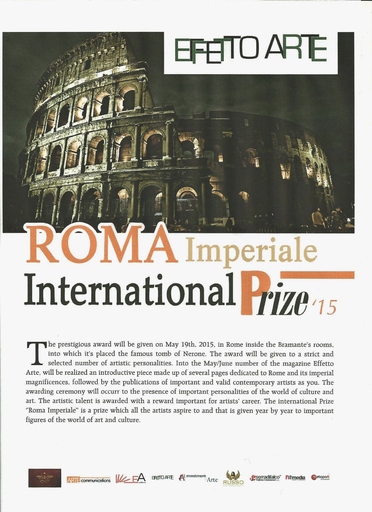 Samen met nog een paar internationale kunstenaars ben ik genomineerd voor de "Roma Imperiale International Prize 2015" Voor mij weer een totale verassing en ook natuurlijk al weer een hele eer voor deze uitnodiging.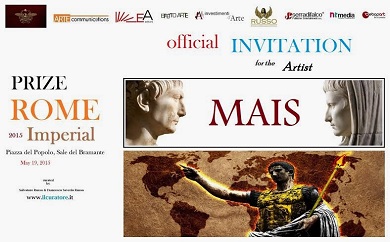 << Dear Mais,
I am very proud to award you with the Prize International Rome Imperial.
The Prize in for the Artists that are worth for their artistic merit.
You will be awarded on May 19th, 2015, Inside the "Sale del Bramante", Piazza del Popolo in Rome. The awarding ceremony will take place at 6 o'clock pm
If the artist will not be present at the awards ceremony, the prize will be sent home.
The prestigious award will be given in Rome inside the Bramante's rooms,
into which it's placed the famous tomb of Nerone. The award will be given to a strict and
selected number of artistic personalities. Into the May/June number of the magazine Effetto
Arte, will be realized an introductive piece made up of several pages dedicated to Rome and its imperial magnificences, followed by the publications of important and valid contemporary artists as you. The awarding ceremony will occurr to the presence of important personalities of the world of culture and art. The artistic talent is awarded with a reward important for artists' career. The international Prize ''Roma Imperiale'' is a prize which all the artists aspire to and that is given year by year to important figures of the world of art and culture.
Sincerely
Dott. Salvatore Russo >>
Update: En hier is dan mijn award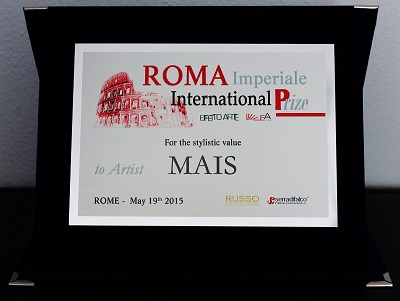 De afbeelding van het uitgekozen werk "White Woman With Red Shoe" in de Kunstcatalogus van "Effetto Arte" mei/juni 2015 uitgave is hier te zien:
http://www.mais-art.nl/blog_post/184959325_CATALOGUS+LOUVRE+-+PARIJS+2014+%26+%E2%80%9CEFFETTO+ARTE%E2%80%9D.html#.VW-fJCww_m4